Frans Floris, Part II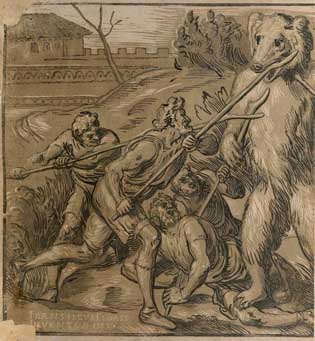 Frans Floris (1519/20-1570) was the foremost Antwerp artist of the mid-sixteenth century. Known as the Flemish Raphael, he was admired for his Italianate style, treatment of the body and approach to composition. As a result of his close relationship with the publisher Hieronymus Cock, who established the Quatre Vents press in the same years that Floris started to receive important commissions, the artist was able to harness the print medium as no Antwerp artist before him had done.
Nearly all Netherlandish printmakers active between 1550 and 1570 worked from Floris designs. Some prints reproduce multi-figure painted compositions, whereas other engravings, in particular the allegorical cycles, were made from drawings Floris created for the purpose. Floris monumental etching of 1552, Victory Surrounded by Prisoners and Trophies of War (no. 156), his only autograph print, demonstrates his direct engagement in the process of print­making.

These two volumes catalogue and illustrate all known etchings, engravings and woodcuts by Floris and after his designs. Preparatory drawings, iconographic and textual sources have all been researched thoroughly. For the first time in the New Hollstein series, clair-obscur prints have been fully illustrated in colour. Particular attention has been paid to state changes and to printed and drawn copies as well as adaptive reuses of motifs in other media including tapestry, precious metals and carved reliefs. Tentative attributions, former attributions, and rejections are also described and fully illustrated. A substantial introductory essay by Edward H. Wouk situates Floris prints in the context of European print­making and elucidates the importance of these images in an evolving dialogue between Italian and Northern art.
Volume II: Intaglio prints (continued)
Published in 2011
Compiler: Edward H. Wouk
Editor: Ger Luijten
ISBN: 978-90-77551-88-2
266 pp.