Hendrick Goltzius I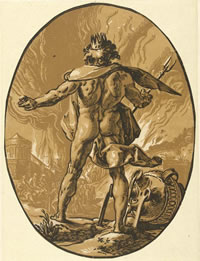 The virtuoso artist Hendrick Goltzius (Mulbracht 1558-1617 Haarlem) was the most influential engraver of the late sixteenth century. Famous for his innovative technique of the swelling line his prints remained to be sought after by collectors, even when his mannerist style, influenced by Spranger, was criticised from the second half of the seventeenth century.His prints were catalogued and discussed by Bartsch (1803), Hirschmann (1921), Hollstein (1953) and Strauss (1977) but a comprehensive, revised catalogue of Goltzius complete printed oeuvre, based on updated research, remained a desideratum.

The first two volumes contain all autograph engravings, etchings and woodcuts by Hendrick Goltzius. These include early works, designed and etched by Goltzius after allegories of his teacher Dirck Volckertsz. Coornhert, such as the re-attributed series of The Rise and Fall of the Heretic, made while the young artist was a pupil of the latter in Xanten, Germany, in 1574-77.

In 1577 Goltzius followed Coornhert to Haarlem, where he continued to work for him, while also working as designer and engraver for the Antwerp publishing firms of Philips Galle, a previous pupil of Coornhert, and Volcxken Diericx, widow of Hieronymous Cock. During these years Goltzius also became a renowned maker of portraits, mostly engraved in small, oval plates, often in precious metal.
These small portraits could be printed as well as worn as a medallion on a chain. Goltzius started his own publishing firm in 1582, launching his career with a signature series on the Rewards of Labour, Industry, Practice and Art, an iconographic representation of his later motto 'Eer boven Golt' (Honour above Gold). Building up a stock of prints Goltzius worked after his own designs as well as after others, such as Antonie Blocklandt and Dirck Barendsz. A growing number of pupils and assistents executed engravings after Goltzius own designs. From 1585 Bartholomeus Sprangers elegant, mannered style greatly influenced Goltzius designs and led him towards a new engraving technique of broad swelling and tapering lines, culminating in the large Wedding of Cupid and Psyche after Spranger. A next phase in his career started with his trip to Italy in 1590-91, after which Goltzius adopted a more classical style. Besides reproductions of several Italian masters, such as Raphael and Palma Giovane, he developed this new style in his own designs. The six prints from his famous series The Birth and early Life of Christ, also called the Masterpieces, were inspired by Italian examples as well as by his much-admired predecessors Lucas van Leyden and Albrecht Drer. In the Passion-series (1596-98) Goltzius tried to emulate Van Leyden and Drer in style and technique. Towards 1600 Goltzius turned to painting, leaving his publishing firm to his stepson Jacob Matham. The engraving which is considered to be Goltzius last autograph plate, the Adoration of the Shepherds, remained unfinished and was published only later, possibly posthumously, by Matham. The chiaroscuro woodcuts are now regarded as both designed and cut by Goltzius himself and are included in the second volume, in a separate section in full colour, in most colour variations.

Volumes III and IV contain all prints after designs by Goltzius. These prints have previously been catalogued by engraver only; now, as a first, all prints are represented and fully illustrated in iconographical order, giving opportunity to see Goltzius development as a designer in allegorical series such as the Virtues or the Four Seasons. New Hollstein volumes have appeared on several of Goltzius pupils and assistants, namely Jacques de Gheyn II, Jacob Matham and Jan Harmensz. Muller. Jacques de Gheyn and Jan Muller passed through Goltzius workshop only briefly during the late 1580ss. Both made only a small number of prints after Goltzius but can be considered the most talented engravers from his workshop. A small number of prints, previously attributed to Jacob Matham, are now given to Jan Muller as engraver. Jacob Matham, Goltzius stepson, would become his most productive assistant and, from 1600, a printmaker in his own right. Next to Matham, from 1592, Jan Saenredam engraved the bulk of Goltzius designs, employed by him as an independent printmaker.
Saenredams technique could be deceptively close to that of Goltzius; several prints attributed to Saenredam are now considered to have been engraved by Goltzius himself. Other engravers of Goltzius designs were his brother-in-law Cornelis Drebbel as well as his brothers Jacob or Jacques Goltzius and Conrad Goltzius. The latter remained in Cologne where he published prints after his brothers designs as well as copies. Some woodcuts were made after Goltzius designs by Christoffel van Sichem and his son. Paintings by Goltzius were reproduced in print by Jacob Matham and his sons, Adriaen and Theodoor. A recently discovered print by Theodoor Mathams pupil Reinier van Persijn added a design as well as an unknown painting to Goltzius oeuvre. This print is included in the last volume, in a separate section of later prints after Goltzius. This volume also contains a comprehensive list of rejected prints, previously attributed to Goltzius as designer and/or engraver. A shortlist of prints published by Goltzius, designed and engraved by other printmakers, completes the catalogue into an overview of the entire Goltzius-fund.
Volume I: Goltzius after Goltzius (Old Testament, New Testament, Subjects of Devotion, Apostles, Saints, Allegories, Mythology, Ancient history, Modern history)
Published in 2012
Compiler: Marjolein Leesberg
Editor: Huigen Leeflang
ISBN: 978-90-77551-95-0
392 pp.