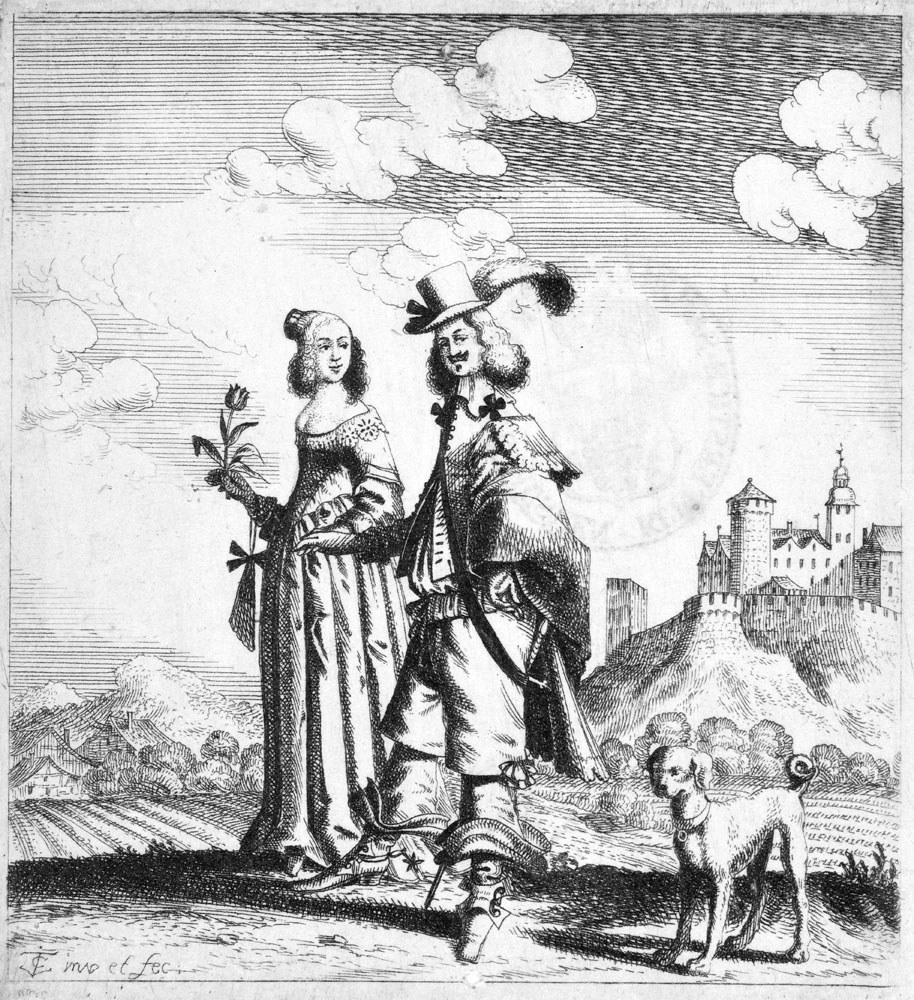 This volume contains the work of the painter-etcher (Maler-Radirer) Johann Carl von Thill (1624-1676) from Nuremberg. The catalogue here is largely based on the work of Andreas Andresen. The prints are rare, and it is a great pity that many of the landscapes prints that are likely to be signed with a monogram remain to be traced.
One was found in the Philadelphia Museum of Art from the remarkable collection of John Smith Phillips (1800-1876) who with the aid of the Andresen catalogues mostly collected prints by German mid-eighteenth through to mid-nineteenth century artists, although clearly not exclusively. The Kupferstichkabinett in Berlin preserves a good group including the self-portrait and the portrait of his wife which are printed on the same sheet.

The charming print of a fashionably attired couple taking a stroll found in just one impression is clearly another self-portrait. The oeuvre also includes a striking bust portrait of Ferdinand Talientschger after a drawing made in Rome by Matthäus Merian the Younger (1621-1687) precisely dated to the day it was drawn, 10 October 1644.

Most of the prints by Von Thill are small but the magnificent equestrian portrait of Karl X Gustav (1622-1660), commander of the Swedish forces in Germany, after Joachim von Sandrart, is on an appropriately much grander scale. A memento mori drawing dated 1649 is found in a Stammbuch (autograph album, also known as album amicorum) to Georg Andreas Harsdorfer (1616-1700) in Nuremberg (GNM-B), another clue to his connections and life.

Apart from Johann Carl von Thill this volume contains the work of the following artists: Johann Philipp Thelott the Elder, Daniel Theobald, S. Theyssens and Veit Thieme.
Compiler: Dieter Beaujean
Editor: Simon Turner