Jacob Matham III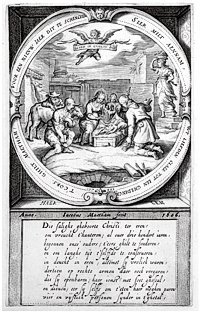 The critical fortunes of the Haarlem engraver, publisher and draughtsman Jacob Matham (1571-1631) are mainly bound up with the name of Hendrick Goltzius, whose adoptive son he became at the age of eight. Trained by Goltzius, he took over his workshop after Goltzius devoted himself to painting around 1600. Matham's output reveals Goltzius strong technical influence, even if over the years Matham developed a broader and less refined technique. Unlike Goltzius, Jacob Matham served a Catholic ideal by engraving many saints. In addition to his religious output, he engraved and published allegorical New Years compositions for rhetoricians and guilds, such as the one he engraved 1606 for the Christmas guild of Haarlem (fig.) for which the original cooper plate newly came to light, and Mannerist, but also mythological, compositions announcing the new Baroque trend, as well as numerous portraits, mainly of Dutch governors, citizens and scholars. His three sons, Adriaen, Jan and Theodoor, were also engravers. Theodoor Matham was certainly the most gifted of them, and became a prolific Baroque engraver.

The new edition of the catalogue will clear up some confusion over the sons output. It will reveal new prints engraved or edited by Jacob Matham, some of them curious ones, like an oversized composition of Orpheus after Matham himself, or the large Phaeton composition (B. 312). The catalogue will illustrate the few known preparatory drawings, bring to light some new book titles and series, as well as a great deal of new states and copies that illustrate Matham's impact on the market during the seventeenth century and later.
Volume III: Attributed prints, Prints after designs by Jacob Matham, Prints published by Jacob Matham, Rejected prints
Published in 2008
Compiler: Léna Widerkehr
Editor: Huigen Leeflang
ISBN: 978-90-77551-62-2
318 pp.