Johannes Stradanus, Part I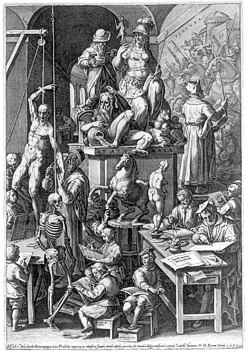 The versatile artist Johannes Stradanus, or Jan van der Straet, was born in Bruges in 1523, but found fame as one of the most successful northern masters working in Italy during the second half of the sixteenth century, where he was known as Giovanni Stradano. After becoming a master painter in Antwerp in 1545 he left for Italy, where he initially settled in Venice. In about 1550 he went to Florence to work as a designer for Grand Duke Cosimo I de Medici's tapestry works. Under Giorgio Vasari he worked on the decoration of the Palazzo Vecchio, both as a designer of tapestry cartoons and as a painter. During the same period he also worked on various commissions in Rome. Stradanus was a member of the famous Accademia del Disegno in Florence from its establishment in 1563. From 1571 he worked as an independent master, moving to Naples in 1576. He returned to Florence in 1580, dying there in 1605.
Stradanus was chiefly renowned in the Netherlands as a designer of prints. He started working with the Antwerp publisher Hieronymus Cock, who in 1570 published a series of prints after Stradanus tapestries of hunting scenes for Cosimo I de' Medici. Stradanus later worked mainly with Philips Galle, who published large series after his designs, such as another series of hunts, consisting of 105 prints, the Acts of the Apostles, two series of the Passion and Resurrection of Christ, and many others.
Of special interest are profane subjects such as the Nova reperta, depicting inventions of the modern era, the America retectio, on the discovery of the Americas, and the Horses of the Stable of Don Juan of Austria. One of the most famous loose prints is the Allegory of the Visual Arts engraved by Cornelis Cort in 1578. In addition to this one print by Cort, Stradanus designs were engraved by some of the finest engravers of the second half of the sixteenth century, among them Hendrick Goltzius, Philips Galle and his sons, the Collaerts, the Sadelers and the Wierix brothers.
Volume I: Old Testament, New Testament, Old and New Testament
Published in 2008
Compiler: Marjolein Leesberg
Editor: Huigen Leeflang
ISBN: 978-90-77551-69-1
268 pp.