Johannes Teyler, Part I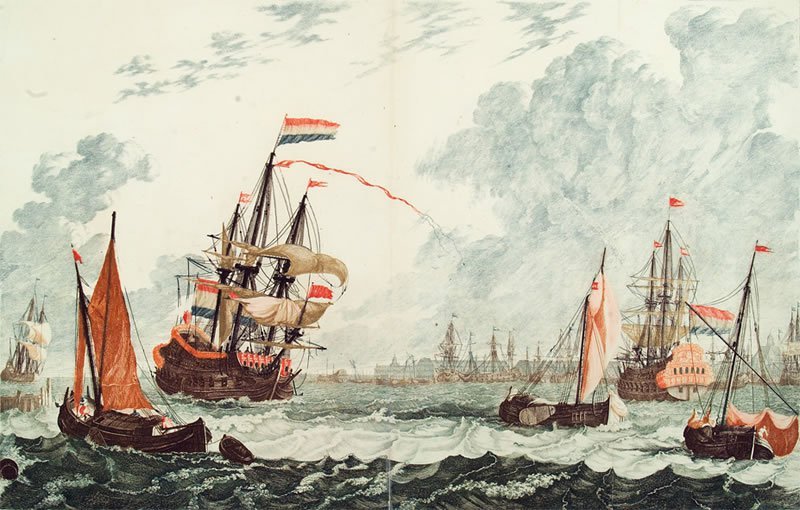 An exhibition of colour printed engravings and etchings traditionally attributed to Johannes Teyler (Nijmegen 1648-c.1709) was shown in Nijmegen and Cleves in 1961. Although a slim (47 pp.) volume its catalogue contained the first important study of Teyler, his social environment, print production and immediate followers.
The present New Hollstein volumes now provide an up-to-date comprehensive catalogue which will provide an invaluable aid to research.

The prints attributed to Teyler are characteristic, because all of the copper plates were inked in multiple colours in the so-called - la poupée manner.
This means that one plate is inked with two or more different colours and the resulting impression shows a multi-colour image. The method is occasionally found with some engravings and etchings of the sixteenth and seventeenth century, applied in a modest way using two, occasionally three colours. With Teyler, however, intaglio colour printing came to full bloom for the first time in print history showing glowing yellows, burning reds, vivid oranges, lush greens, cool turquoise blues, deep purples, and luminous pinks on bright white paper.
With a few exceptions, none of these prints is signed or dated. Teyler himself was not a professional painter or printmaker, but educated as a philosopher and mathematician, making his career as a military engineer. We therefore cannot see him as the designer or engraver of those prints. Instead they are the products of a workshop with Teyler as its organiser and financer. This workshop was active in various places in Holland from c.1685 - 1697. Among the artists and printmakers who presumably worked with Teyler were Jan van Call and Johan van den Aveele. Teyler acquired a privilege of the Staten van Holland en West-Friesland for his colour printed images in 1688 and in 1698 the complete inventory of his workshop was auctioned in Rotterdam.
The oeuvre of the Teyler workshop comprises classical figures and mythological scenes, views of towns and landscapes in Holland, Germany and Italy, birds, flowers, insects and animals, and plans of military encampments and marching orders. Teylers printers developed the process to a sophisticated level never found afterwards with up to ten different colours per impression and marbling effects letting one colour flow uninterruptedly into another.
Another notable aspect of Teyler's production is the printing on fabric mentioned in the 1688 privilege and testified by different visitors to his workshop, including the famous mathematician Christiaan Huygens. However, only four examples of Teyler prints on fabric could be identified for the present volumes. The absence of signatures and the printing in colours on fabric suggests the production of decorated wall hangings. The images of classical figures and mythological scenes would well suit the contemporary fashion for interior design.
The corpus comprises over 400 unique prints compiled in parts I and II of these New Hollstein volumes. Teyler's method of colour printing was adopted by a number of Amsterdam publishers from 1695-c.1710, of which some 600 are compiled in parts III and IV, including the - la poupée inked illustrations in Cornelis de Bruijns French translation of his Travels (1700). Important is the influence of Teyler's working manner, which proved a game changer in print history. Teylers colour process subsequently appeared in English, German, French and Italian prints and book illustrations in the course of the eighteenth century.
These New Hollstein volumes give an extensive introduction on Teyler and his activities, with a compilation in full colour of the prints attributed to his studio and those issued by Amsterdam publishers.
Volume I: Prints from the workshop of Johannes Teyler, c. 1685-1697
Published in 2017
Compiler: Ad Stijnman
Editor: Simon Turner
ISBN: 978-94-91539-34-3
276 pp.