Leonhard Beck I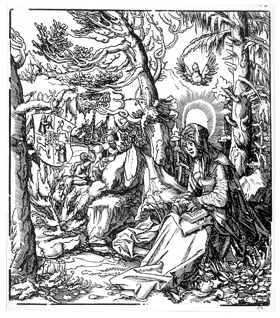 Born in Augsburg as the son of illuminator Georg Beck, Leonhard Beck (c. 1480-1542) began his artistic career as an apprentice in the workshop of the Augsburg painter Hans Holbein the Elder. Although the focus of his initial training was on painting, the production of woodcut illustrations became Beck's most important field of activity in the second decade of the sixteenth century.

He contributed a large number of woodcuts to the various genealogical and historical projects commissioned by Emperor Maximilian I (1486-1519) and supervised by the Augsburg humanist Conrad Peutinger. Whereas only a small portion of the woodcuts in the Triumphal Procession of Emperor Maximilian I has been attributed to Beck, his role as the most productive woodcut designer working for the emperor is readily apparent in the Theuerdank (published in 1517) and the Weisskunig (c. 1514-16). Beck not only produced the majority of the several hundred text illustrations, but was also responsible for many corrections of images provided by his collaborators Schäufelein and Burgkmair.
Beck created his most ambitious woodcuts for another imperial commission, the Saints connected with the House of Habsburg (c. 1516-18), a series comprising 123 images that were all designed by him. Most of these woodcuts still display a clear debt to Burgkmair, to whom most of Beck's works had been attributed before he was finally recognised as an artistic figure at the end of the niniteenth century. The number of Beck's woodcuts for liturgical books, religious literature, heraldic and satirical imagery is relatively small compared to the commissions carried out for the emperor.
Published in 2007
Compiler: Guido Messling
Editor: Hans-Martin Kaulbach
ISBN: 978-90-77551-63-9
198 pp.