A. Van Dyck, Part I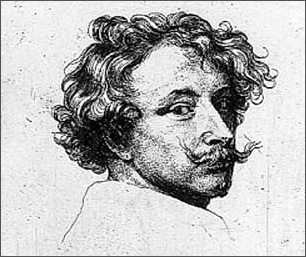 Painter and draughtsman, active also in Italy and England, ranked as the leading Flemish painter after Rubens in the first half of the seventeenth century, but considered unsurpassed in the genre of portraiture. Van Dyck was initially trained by Hendrik van Balen ascending to a special position in Rubens' studio. He travelled to Italy in 1621 where he was profoundly influenced by the work of Titian and produced some spectacular portraits of Genoese noblemen.
Van Dyck returned to Antwerp in 1627 and the next year painted a major altarpiece, the acclaimed Vision of St Augustine - engraved by Pieter de Jode.
Van Dyck's fame steadily increased and he painted numerous inspired altarpieces at the same time employed by various courts to produce state portraits including those of Isabella Clara Eugenia in Brussels and Frederick Hendrick and Amalia van Solms in The Hague. He was nevertheless free of courtly ties until he went to England. Van Dyck moved to London in 1632 where he was by far the most advanced artist and he became the official painter to the Stuart court of Charles I and Henrietta Maria. He was given lodgings and a salary, knighted and presented with a gold chain, as well as countless commissions to glorify the Stuart regime. Nevertheless Sir Anthony van Dyck was able to return to Flanders for a year and painted a variety of important portraits including that of the Cardinal-Infante Ferdinand, recently installed as the new governor. Van Dyck returned to England in 1635 and continued apace painting the nations ruling elite including such controversial figures as William Laud, Archbishop of Canterbury and Thomas Wentworth, Earl of Strafford. Among Van Dyck's last paintings is the dynastic wedding portrait of the young Princess Mary and Prince William of Orange.
Volume I: Iconography - Etchings by Anthony van Dyck, Principum, Virorum doctorum
Published in 2002
Compiler: Simon Turner
Editor: Carl Depauw
ISBN: 978-90-75607-51-2
200 pp.