P. Galle, Part I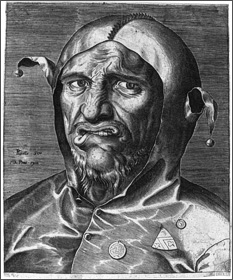 In his description of the Low Countries of 1567 the Florentine diplomat Lodovico Guicciardini included Philips Galle from Haarlem, most excellent engraver as one of the Netherlandish artists worth mentioning. Indeed Philips Galle (Haarlem 1537 - " 1612 Antwerp), engraver and publisher, can be considered one of the most prolific printmakers in Europe in the second half of the sixteenth century, with a list of well over 2.500 prints published between 1563 and 1606.
The present New Hollstein volumes are dedicated to Philips Galle as an engraver. In general Galle is most renowned for his series of portraits of famous scholars, which are catalogued and illustrated in full including the portraits engraved by the Galle workshop. These series, however, form only part of Philips Galle engraved oeuvre, which contains current as well as iconographically more innovating religious and moralistic subjects but also rare series such as the anatomical studies of the so-called Instruction et fondements de bien pourtraire or the intrigueing series of various fashions of dressing the hair and beard.
Trained by the Haarlem humanist Dirck Volckertsz. Coornhert, Galle started working from Haarlem for Hieronymus Cock of Antwerp, by far the most important print publisher in the Low Countries. Besides reproducing several Italian prototypes, he mainly incised compositions after contemporary Netherlandish masters such as Pieter Bruegel, Frans Floris and, foremost, Maarten van Heemskerck. These engravings display Galle's remarkable ability in adapting style and technique to match drawings by very different inventors.
From 1563 onwards Philips Galle started his own business as a print publisher in Haarlem. He moved to Antwerp in 1570, where he set up a print shop on a far larger scale using Hieronymus Cock and Christophe Plantin of the famous Plantin Press as a model. Besides designing his own compositions, Galle worked with designers such as Anthonie Blocklandt, Hans Bol, Maarten de Vos and Johannes Stradanus. He employed many talented engravers, amongst whom the Wierix brothers, Adriaen and Johannes Collaert, Crispijn van der Passe, Gerard van Groeningen, Johannes Sadeler and is own sons Theodoor and Cornelis. Galle also became acquainted with numerous humanists and scholars, the most important of which was the Spanish theologian Benito Arias Montano. From 1600 onwards Theodoor Galle took over control of the workshop, which came to an end only after the death of the latter son Johannes in 1676.
Philips Galle left behind an artistic and intellectual legacy, which had a profound influence well into the seventeenth century. The quantity of his production as well as the variety of subjects that Galle engraved is amazing.
Volume I: Old Testament
Published in 2001
Compiler: Manfred Sellink and Marjolein Leesberg
Editors: Manfred Sellink
ISBN: 978-90-75607-70-3
280 pp.