The De Gheyn Family, Part II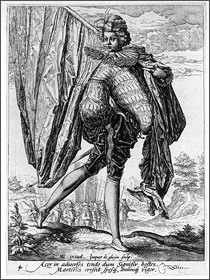 The De Gheyn family consists of three generations of artist-engravers, father, son and grandson, each bearing the Christian name Jacques. Of this family, Jacques de Gheyn II is the best known and most prolific.

Jacques de Gheyn I (c. 1532 - c. 1582) etched a series of historical prints and a map, all referring to the political situation in the Southern Netherlands in
1577-81.

Jacques de Gheyn II (1565 - 1629) started out as an engraver as pupil and assistant of Hendrick Goltzius in Haarlem. Around 1592 he set up his own successful print publishing business in Amsterdam, and from 1595 in Leiden, working mostly after his own designs and those of Karel van Mander. The subject matter of the prints published by Jacques de Gheyn II consists of devotional, biblical and allegorical subjects, similar to the stock of Hendrick Goltzius and sometimes made in apparent competition. De Gheyn also received commissions from the milieu of Leiden University and the Chamber of Rhetoric and from the States General and the cities of Schiedam and The Hague. His most prestigious project was undoubtedly The exercise of arms or Wapenhandelinghe for Prince Maurits and the States General, a military manual for the handling of arms consisting of 117 prints.
The small oeuvre of Jacques de Gheyn III (1596 - 1644) dates from the period around 1614-20. In style and technique, the etchings of Jacques de Gheyn III are closely related to the work of Simon Frisius.
Volume II: Jacques de Gheyn II (continued), Jacques de Gheyn III
Published in 2000
Compilers: Jan Piet Filedt Kok and Marjolein Leesberg
Editor: Ger Luijten
ISBN: 978-90-75607-55-0
318 pp.