The Muller Dynasty, Part II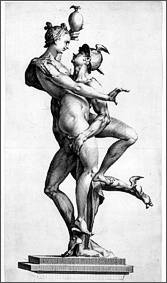 During the 1590s Jan Harmensz. Muller became a formidable rival to his teacher Hendrick Goltzius. While Goltzius engraving style became more sedate after his return from Italy in 1592, Muller continued to employ at times the dizzying array of sinuous hatching and broad swelling lines for which he is best known. He became the engraver of choice for the most famous artists employed by Emperor Rudolf ii at the court in Prague - Hans von Aachen, Bartholomeus Spranger and Adriaen de Vries.
Part I is dedicated to the woodcuts of Jan Ewoutsz. Muller, largely after designs by Cornelis Anthonisz., and to Harmen Jansz. Mullers work as an engraver, first for Antwerp publishers like Gerard de Jode and Hieronymus Cock and from designs by a variety of artists. Until the co-operation with his son Jan, Harmen published a number of prints by himself and others. A fully illustrated catalogue is offered for the first time.

Part II comprises the catalogue of Jan Harmensz. Mullers output. The role of Harmen Jansz. Muller is well known from the engraved addresses seen on Jansz prints. A catalogue of watermarks in Jan Mullers prints demarcates the use of paper in the Muller workshop and in that of later publishers. Jan Muller is one of the first artists in the history of print­making by whom a significant number of proof impressions has survived. The various stages will be lavishly illustrated and detailed here, by which the genesis of many of his prints can be clearly followed.
The dynastic element is most clearly corroborated by the illustrated books, presented as part III. Some very rare woodcuts include those bearing the mark of Jan Ewoutsz. Muller. These woodblocks apparently still belonged to the stock of his son Harmen. The illustrated catalogue of book illustrations used in publications of Harmen Jansz. Muller and all other members of the Muller dynasty is preceded by an introduction summarizing the current state of research. Together the volumes provide an overview of the entire corpus of printed imagery by members of the Muller dynasty.
Volume II: Jan Harmensz. Muller
Published in 1999
Compiler: Jan Piet Filedt Kok, with an appendix by Erik Hinterding
Editors: Ger Luijten and Christiaan Schuckman
ISBN: 978-90-75607-33-8
330 pp.