Nicolaes de Bruyn, Part II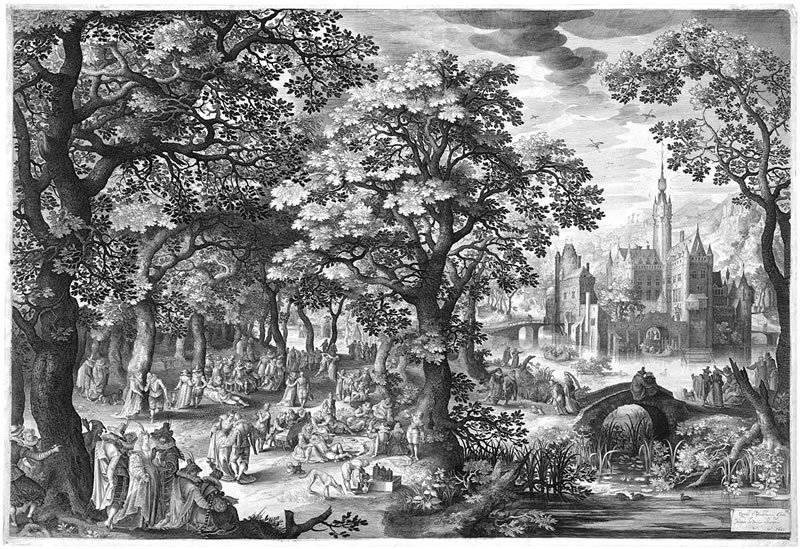 Nicolaes de Bruyn (1571-1656) is known primarily among print specialists for his large engraved landscapes after designs by artists such as Gillis van Coninxloo and David Vinckboons from around 1600. He is often identified as a reproductive engraver because of his work after these artists as well as Maarten de Vos, Jacob Savery, the Sadelers, the Collaerts, Hans Vredeman de Vries, and single prints after Sebald Beham, Hans Bol, Abraham Bloemaert, and Jan Brueghel I. However, these reproductive prints comprise about a quarter of de Bruyns total output. The New Hollstein Dutch & Flemish volumes dedicated to de Bruyns prints will reveal an unexpected diversity in subjects and styles among his four hundred prints, published over a sixty-year career.

De Bruyns first prints from the 1590s show the influence of Abraham de Bruyn, his uncle and teacher, and follow established trends in Antwerp. By 1600, however, de Bruyn moved away from the small-scale, serial prints of his early years to specialize in large-scale landscapes, most of which include religious scenes. He would continue to develop this specialty after his move to Rotterdam and until his last dated print in 1652.
It appears that de Bruyn had only one follower, his pupil and brother-in-law Jan van Londerseel. Though Londerseels career ended with his death around 1625, de Bruyn would be active for nearly three more decades. The vast majority of de Bruyns prints were printed in at least two states, and many appeared in several states during life lifetime and immediately following his death - a testament to his success.
Published in 2014
Compiler: Lorena Baines
Editor: Nadine M. Orenstein
ISBN: 978-94-91539-16-9
338 pp.