Ornament prints in the rijksmuseum II, the seventeenth century (3 parts)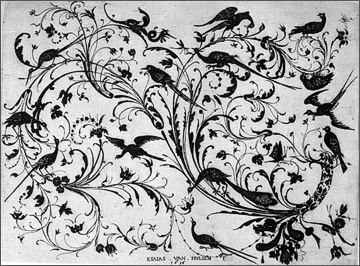 The collection of ornament prints at the Rijksmuseum in Amsterdam is impressive by any standard. It comprises examples from all possible areas of application and, moreover, is international in orientation. Representative individual sheets, print series, albums and illustrated books from England France, Germany, Italy and The Netherlands have been entering the museum ever since the mid-eighteenth century, when the founder's collection was assembled. In this three-volume publication, the seventeenth-century section is presented in a handsome format. It is organized by the domain of application, and covers designs for ornament, furniture, metalwork, architecture, gardens, splendid ceremonies and fireworks, stage sets, calligraphy and writing models.
The imagery of the prints is described, inscriptions and signatures are given, and 1000 illustrations enrich this catalogue, which contains no less than approximately 13,000 entries. The catalogue is divided into countries, allowing for the reconstruction of the dissemination of styles throughout Europe. The multitude of printed copies listed here for the first time underscores the enormous popularity of a variety of prototypes. The author not only lists the states or editions of impressions in the Rijksmuseum but also includes the earlier and later publishing history.
With its wealth of new information, this catalogue took many years to compile. It contains illustrations of a mass of prints never reproduced before, as well as a four-language glossary of frequently used terms, and an extensive index with the names of all the individuals involved in the production of the prints, including painters, poets and dedicatees.
It aims to be a standard work for print lovers, historians, collectors, dealers, specialists of architecture and the applied arts and general art historians alike.
By Peter Fuhring

3 volume set
ISBN: 978-90-75607-56-7
Price € 250 / $ 345 per set