Leonhard II Heckenauer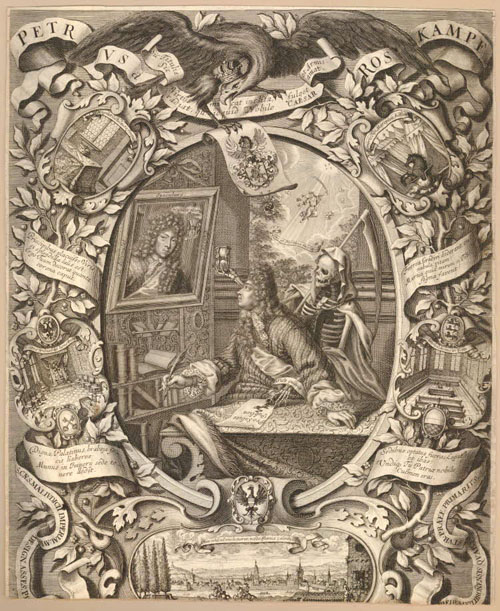 Leonhard II Heckenauer (c. 1650-1704) came from a family of artists in Augsburg. His grandfather Wilhelm I and his father Leonhard I were silversmiths. His three brothers Philipp, Jacob Wilhelm and Johann, were goldsmiths, engravers and musicians. He himself was most likely born in Augsburg shortly after the Thirty Years' War, around 1650. He certainly received his first instructions from his father and finally learned the craft of copper engraving from Bartholomäus Kilian, the most famous of the numerous Augsburg engravers at that time. Like his teacher, Leonhard II Heckenauer specialized in portraits and extremely large-format thesis prints, but he also created ornamental engravings and numerous book illustrations.

How highly his work was valued in Augsburg can most clearly be deduced from the fact that he received the annual commissions for the so-called Augsburg Peace Paintings from 1683 to 1703, i.e. during almost his entire creative period. Contrary to what the term Peace Painting might suggest, these were broadsheets with an engraving at the top and an extensive text part at the bottom. The sheets were issued to Augsburg schoolchildren every year on August 8 to commemorate the Peace of Westphalia and the end of the religious oppression of the city's Protestant population. Heckenauer produced all of these 21 broadsheets after models by Isaak Fisches. Other works by Heckenauer were based on models by Sebastiano Bombelli, Carlo Maratta, Pietro da Cortona, Johann Heinrich Roos, Daniel de Savoye, Johann Christoph Beischlag and Georg Marcell Haak.

Among Heckenauer's portraits, his numerous works for the so-called funeral sermons deserve special mention. These initially consisted only of the printed sermon, but were gradually enriched by poems, notes, biographies and copperplate engravings. The families outbid each others with increasingly high-quality productions. For the texts, famous scholars were chosen whenever possible, whereas the best and most famous artists produced the engravings. The commissions which included portraits of the deceased, castra doloris, processions and sarcophagi, became more and more extensive, of higher quality and larger formats. In keeping with the spirit of the times, Heckenauer usually chose for his portraits a vertical oval standing on a pedestal and showing the sitter in front of a niche. However, some of his portraits were more elaborate, e.g. that of the Heilbronn lawyer Peter Rosskampf, who died in the midst of work in his office. In this print Rosskampf is shown holding a quill in his hand, looking into a mirror and, to his great surprise, perceiving Death who is presenting an hourglass to him.
Compiler: Jörg Diefenbacher
Editor: Eckhard Leuschner