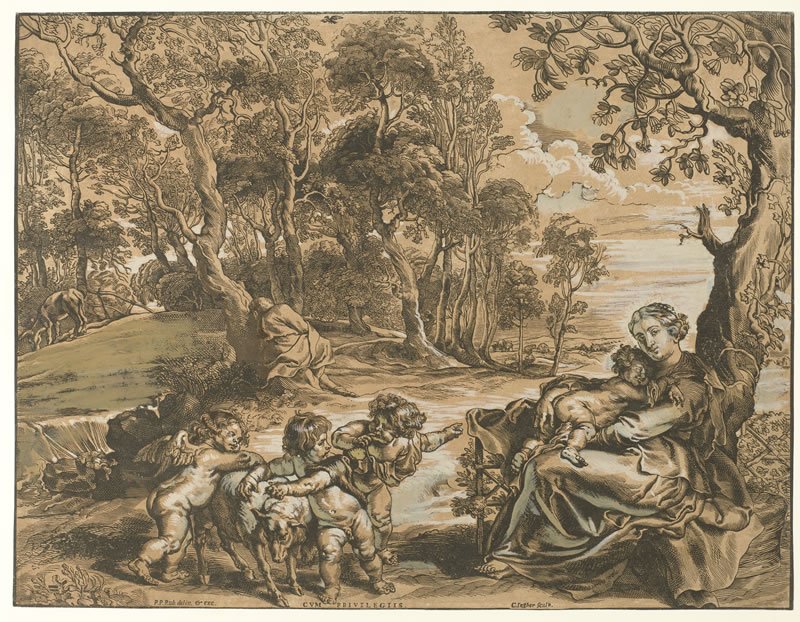 A catalogue of the prints and a complete access to the images of the formidable oeuvre of the Flemish painter Peter Paul Rubens (1577-1640) is now a reachable task, especially given the completion of the Dutch and Flemish Hollstein volumes and the availability of online collection databases.

Early in his career Rubens realized that prints after his inventions could be an important instrument in making his work known in the whole of Europe. Disappointed by some engravings after his paintings that appeared between 1610 and 1615, he decided to take the matter into his own hands and set up a print­making studio in his Antwerp workshop.


From around 1618 onwards various professional printmakers were hired to transform his paintings into prints working under his strict instructions: most notably the Bolswert brothers, Cornelis Galle, Marinus van der Goes, Pieter de Jode, Nicolaes Lauwers, Paulus Pontius, Lucas Vorsterman and Jan Witdoeck.
---

This resulted in numerous high quality engravings - and the woodcuts of Christoffel Jeghers - that were soon recognized as works of art in their own right. Surely these prints were instrumental in making Rubens the most famous artist of his age? A range of other prints were also produced in the period, including a substantial number of etched works by Rombout Eynhoudts, Willem Panneels and Pieter Soutman.

The main reason that the prints after Rubens were of such high-quality was his close involvement in their making. The catalogue will provide comprehensive information detailing the whereabouts of the preparatory drawings, often the same size as the prints and indented for transfer, and the painted grisailles, which were used as tonal guides by the printmakers. Numerous proofs are extant and some of these are touched with corrections providing vivid evidence of Rubens's direction.

Despite Rubens's insistence on securing copyright privileges in his lifetime, subsequently various other publishers and printmakers were drawn to his work copying both his paintings and the studio engravings. A complete survey of these unauthorised copies, often with interesting mutations, will provide a clear indication of the sheer fame and wide impact of his art.

The catalogue will also show the extent of Rubens's engagement with book publishing and his substantial output of designs for titlepages and book illustrations, particularly for the famous publishing house of Plantin-Moretus.
---

Among the highlights will be comprehensive descriptions of the so-called large and small landscape series, a thorough survey of the woodcut impressions by Christoffel Jegher and an appraisal of the etching of St Catherine often attributed to Rubens himself. A reconstruction of the drawing book and gem book will also be a significant resource for students and scholars. The series of portraits of famous Greek and Roman men, such as Seneca, will also be brought together which has hitherto been dispersed in the Hollstein series.

The catalogue aims to supersede the standard catalogue of Voorhelm Schneevoogt which was published as long ago as 1873. It will utilise the substantial literaure on the artist and especially the Corpus Rubenianum series.

Compilers: Jaco Rutgers and Simon Turner. Editor: Ger Luijten. Expected in 2016