LXXXIV Johann Michael Störitz – Georg Strauch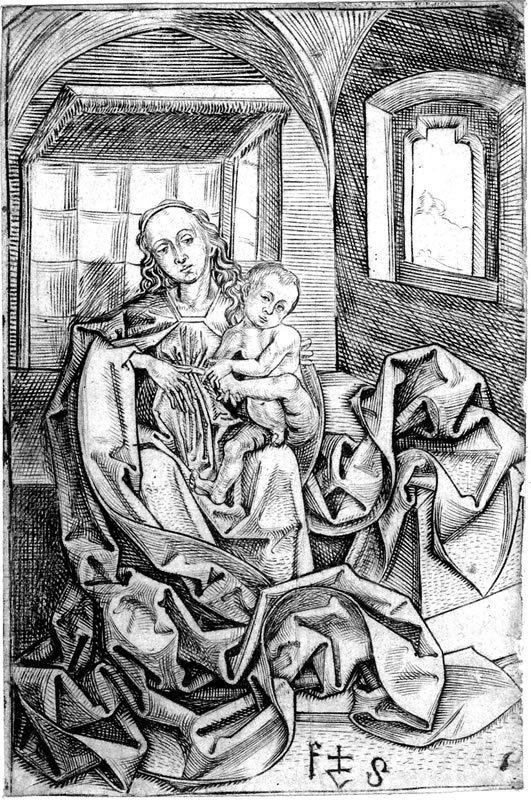 The rarity of the ten prints by the famous early German sculptor Veit Stoss can be gauged by looking at The Print Council of America sponsored A Census of Fifteenth-Century Prints in Public Collections of the United States and Canada, edited by Richard S. Field (New Haven 1995) that records just one impression of The Raising of Lazarus in Boston. Munich is fortunate to have a complete group. The catalogue here records the impressions and raw data of the prints. For art historical discussion, and the arguments about dating, we refer the reader to the work of Fritz Koreny where telling comparisons are made to the work of Geertgen tot Sint Jans, Rogier van der Weyden, Martin Schongauer and Master E.S., among others. Telling comparisons can be made to his own sculptural work, such as the small wood statuette of

The Virgin and Child (Victoria and Albert Museum, 646-1893) and the print of the same subject. The format of the emotion-charged Lamentation print recalls the box-like scenes from the series of stone reliefs (Last Supper, Agony in the Garden and Betrayal of Christ) in the St Sebaldus Church, Nuremberg. Stoss was no engraver and no goldsmith and this is clear in the resulting prints but this makes them all the more special. With regards to the dating it was generally assumed that they were made during the Kraków years, until Koreny convincingly established that the prints were made in Nuremberg after his return in 1496 and therefore most likely from the early sixteenth-century.
Interesting too is that Stoss is documented at the Frankfurt fair in 1506. An exhibition, Tür an Tür: Polen - " Deutschland. 1000 Jahre Kunst und Geschichte, 23 September 2011 - " 9 January 2012, at the Martin-Gropius-Bau, Berlin, was a rare opportunity to see some sculptures by Veit Stoss together with all of the prints, proposing various dates for them, and all of the known drawings.

The substantial oeuvre of Georg Strauch is mostly interesting in terms of portraiture in Nuremberg and book illustrations for works by Johann Michael Dilherr among others. He made notable portraits of Georg Imhoff and the poet Georg Philipp Harsdörffer. Numerous engravers reproduced his work including Johann Alexander Böner, Johann Friedrich Fleischberger, Andreas Kohl, Melchior Küsel, Johann Friedrich Leonart, Jacob von Sandrart, Cornelius Nicolaus Schurtz and others. In a few instances there are insights into how the prints were made, with extant preparatory drawings and unfinished proofs.
Apart from the two above mentioned artists this volume contains the work of Johann Michael Störitz
Published in 2016
Compiler: Dieter Beaujean
Editor: Simon Turner
ISBN: 978-94-91539-30-5
304 pp.